Frequently Asked Questions
---
Search FAQ
Where can I find a user guide?
You can download the latest user guide here.
How long will it take to get connected?
Once we have reached the 30% to 50% commitment mark from you and your neighbors, or have secured grant funds (for rural areas) construction would start immediately, and would be typically be completed in about 6 months. The minimum requirement for commitments varies by housing density and neighborhood size. Spreading the word by talking to your neighbors and encouraging them to take the survey always helps speed up the process.
Will I still need my cable or DSL service?
With WideOpen fiber you will be able to drop your current phone, TV and internet services. You will receive a new utility line providing fiber Internet to your home. You will be able to stream TV, phone, security, and Internet reliably over this new connection. You will be able to transfer your house phone number to our service or any streaming service you select. You can always keep your existing cable or phone service in conjunction with our service if you prefer, as our installation will not interfere with your current communication services. Explore our TV guide here: Guide to HDTV Streaming Services.
Will I have a choice of services?
BizNet Technologies, our initial provider partner, is currently offering business class 250Mbps x 250Mbps, 500Mbps x 500Mbps and 1Gig x 1Gig Internet packages in most areas, with the option to add separate telephone VoIP (telephone) services. As we add subscribers, we expect to be able to offer other providers and other services if there is sufficient demand. Each home can customize and choose their TV package directly by setting up accounts with streaming TV providers: Hulu + Live TV, YouTube, or a custom combination of individual networks. Smart TVs, Roku and AppleTV devices help with quick and easy connections to streaming services. Homeowners can also set up their security systems with DIY box systems similar to Ring or Nest, or contract with established security systems like ADT. Contact us about proper connection of Telehealth services for your connected health equipment.
What will I get with my installation?
Each home connected to our distribution network gets a Gigabit fiber connection that runs back to the community network.
Will my lawn get torn up?
The contractors will repair any damage caused by installing the cable from the street to the house. The contractor will bore UNDER paved driveways. Gravel driveways will have a very narrow trench dug across them and will be properly layered and repaired as soon as the conduit is laid.
How does the fiber get into my house?
The fiber enters a small grey box on the side of each house, typically at the same location as your electric meter and telephone service. A short piece of fiber passes through the wall (often in an existing hole used for phone or cable), and is connected to a box very similar to a DSL modem or cable modem. The box is plugged into a standard AC wall socket for power, and your existing wireless router or Ethernet switch is plugged into the fiber box. Depending on the type of 'Fiber Modem' (ONT) installed in your home, there is at least one Gigabit Ethernet port for LAN connectivity with additional ports available for VoIP phone service--your existing landline phone cable can be plugged into an ATA port for voice service.
Will I need a router?
You will need a router to connect your devices to the Internet. If you already have a router with built- in WiFi and it is more than a couple of years old, you will be better off getting a new one. New routers do a better job of getting our symmetric fiber speeds to the inside of your home and are built with faster and more secure standards such as Wi-Fi 6 and WPA3. Fiber delivers plenty of speed to your home. Installing a new modern router with WiFi 6 is the best way to make certain that your devices can effectively access all the speed that fiber provides. Some older laptops/devices cannot take advantage of new higher WiFi speeds but nearly all new routers are backwards compatible so all of your devices will connect to the network with their native WiFi capability. WOB and Biz Net experts are available to consult with you. We expect to have a top of the line router with Wi-Fi 6 available for lease to our customers very shortly.
Will I have to spend a lot of money to re-wire inside my house?
You will not have to make any changes inside your house to use the WideOpen fiber connection. The box we use to connect you has copper Ethernet ports, and if you currently use a wireless router or mesh system inside your home for Internet, all you have to do is plug your existing modern wireless router into the WideOpen box and do a hard reset to switch it to the new network. If you have Ethernet cabling in your house (e.g. Cat 5, Cat 5e, Cat 6), you can buy an Ethernet switch to plug that into our box -- a quick and easy change.
Can I buy or rent the ONT Modem?
Your ONT Modem is included free with the one time connection fee.
How long does fiber last?
Fiber typically lasts for several decades. Studies indicate that homes with fiber connections generally sell for $5,000 to $7,000 more than homes without fiber. It is a better investment than adding a new deck or upgrading a master bath, both of which cost more than fiber and return less when you sell your home.
Isn't wireless cheaper?
Wireless does not have the capacity that most homes will want even in the next two to three years. Streaming video services from Netflix, Hulu+ Live, Philo TV, YouTube Live, Sling, Pluto, AT&T, and Fubo use up significant amounts of monthly data allotments , even on "unlimited" contracts. There are no data caps on any of our service packages.
What happens if I sell my house?
The fiber cable would transfer with your home to the new owner. Homes with Gigabit Fiber sell more easily and are in higher demand than homes with access only to cable, mobile wireless or satellite.
Will there be TV service?
Streaming TV and video over fiber has never been faster or more flexible. High speed internet allows the consumer to completely customize their television viewing experience. Buy only the channels you want straight from individual networks or sign up with an "All Your TV In One Place" providers similar to Hulu + Live TV, Philo, or Sling. There are several streaming options services that offer full TV packages that include local channels. PC Mag recently reviewed The Best Live TV Streaming Services for 2020.
How will I get TV and telephone?
We have all the capacity and bandwidth you need to use video streaming services like Netflix and Hulu on multiple devices. Our first customers are already discovering how much money they can save by subscribing to our super-fast Internet and dropping their traditional cable or satellite TV subscription. Private VPNs (e.g. to connect to the Virginia Tech network) and videoconferencing also perform seamlessly.
Can I keep my current phone number if I use a streaming VOIP telephone service?
Usually, yes. VOIP telephone services are available through BizNet and through streaming VOIP services like Vonage and Magic Jack. In most cases you will be able to port your current phone number to the new service. Please verify with the service you prefer to use prior to committing to phone service.
What if I don't want to be connected?
There is no obligation to pay for the fiber connection to your home if you don't want it. However, to make the project financially practical and buildable, a minimum of 50% to 60% of the homes in a neighborhood need to agree to be connected. In most cases, you can change your mind later but installation costs may be higher in the future.
What happens if the power goes out?
The equipment that is used to connect a neighborhood will have battery backup that will last several hours--longer than 90% of power outages. Residents can add UPS battery backup to the equipment in their home so that the Internet and phones will work during a power outage. We are your neighbors and we will do everything we can to keep WideOpen Blacksburg's service running in the event of an extended power outage.
Who will repair the fiber if it is damaged?
The fiber that runs along the side of the road will be maintained by WideOpen Blacksburg. If you (or a contractor hired by you) damage the fiber cable from the street to your home, we will repair it but we may need to assess a fair and reasonable cost of repairs.
Does the WideOpen Blacksburg network support IPv6?
We will soon! The WideOpen Blacksburg network is a Multi-service Multi-provider network. Services available to you will depend on the options offered by your choice of service providers. The network equipment utilized by WideOpen Blacksburg will support mixed IPv4 and IPv6 traffic (dual-stack). As such, the Service Providers providing services over our network will be able to provide services with either IPv4 or IPv6 (dual-stack). The management address space used by WideOpen Networks to manage the network will utilize a private IPv4 address space.
Is it true I can get rewards for referring my neighbors?
We know getting sign-ups takes work, so we're adding rewards for Champions. For every neighbor who uses your referral code to sign up and makes an Installation Deposit, we'll reward you. Reward types are based on neighborhood and zone. To qualify, the sign-up must use your referral code.
Will I be able to switch providers in the future?
As we add providers to the network, you will be able to change from one provider to another. Some providers may require one or more month's advance notice of termination. You will be kept informed about new service provider offerings.
Why do I have to provide my address?
By providing your address we can be sure that you live in one of the areas where we plan to build our networks. Your address helps us determine the area to which you belong so that you'll be referred to the correct website for your neighborhood. Knowing your location also helps us to estimate the cost for connecting you to the network.
I can't log in, it says that the email is already in use.
It's probably because your email was registered when you previously completed our survey.
Do this:
Click Login (in the top right of the page).
Click the text "Forgot or Don't have a password?" found under the login button on the login page and request a password for your email address (which is also your user account).
You will receive an email within a few minutes with a link that you click to enter a password. Once done, you are logged in and can proceed.
If you have not previously registered create a new user account. Choose "Create Account" and fill in the information.
What can I do to help my neighborhood be selected for fiber?
You can spread the word to your neighbors about the survey or sign-ups, depending what phase we are in. Depending on survey responses or number of sign-ups, you and your neighbors may have the opportunity to access fiber optic internet next. You can also become a champion for your neighborhood. For more information on becoming a champion, click on "Be a Champion" at the top of the page. If your neighbors are nervous about investing $630 getting fiber installed to their home, remind them our monthly fee is much less than cable fees. We have no data overage fees. No hidden fees. No annual haggling. Fiber is reliable and our local service technicians don't stop until issues are resolved.
What is a champion?
Champions are local enthusiasts who are keen to bring fiber to their neighborhood. Their role is to help share the idea of fiber within their communities and help their neighborhoods get service sooner. Approved champions are provided with marketing material that they can share with their neighbors to help drive engagement.
Can I change my answers to the to the survey?
Sure, you can change the answers to your survey. All you'll have to do is take the survey again under the same address, and the most recent version will replace your previous answers.
Can I change my sign-up?
Please contact us with any questions or concerns regarding your sign up.
Can I submit multiple surveys?
Only one survey or signup is necessary per address, although it is possible to have more than one internet account per household.
Why do I have to accept COS Systems Inc's Terms For User Registration when I register as a customer?
COS Systems Inc is providing this survey collection platform, sign-up platform and is responsible for hosting the information gathered at this site.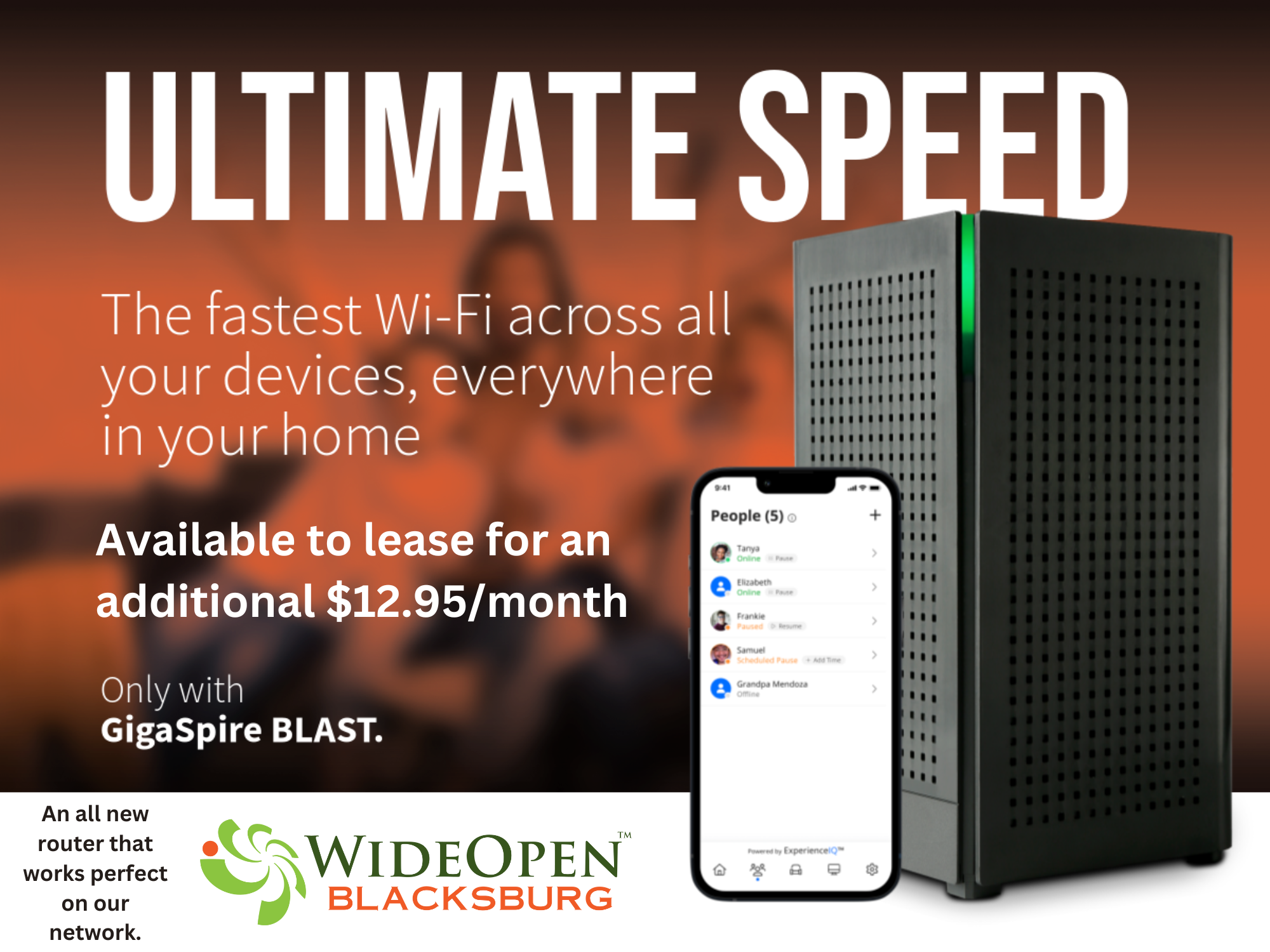 FAQs