WideOpen (TM) Blacksburg is a project of Blacksburg Broadband LLC, a Blacksburg company. Our vision is to bring Gigabit fiber to every Blacksburg home and business that wants it in the next three years.
Partners on the project include:





WideOpen Networks is providing build out and construction management and network operations for the project. WideOpen is also a Blacksburg company, and the firm has a long history of community broadband and fiber network development, with current projects in Virginia, New Hampshire, and Illinois. WideOpen's founder, Andrew Cohill, was the first Director of the Blacksburg Electronic Village.




Biz Net Technologies was founded in 1993 and has since evolved into a premier Internet services and web solutions provider. Biz Net's carrier-grade upstream bandwidth connections allow them to provide their clients with reliable and high-speed data networks. Their fully redundant network offers unmatched quality of service and support for fiber-connected households' and corporate clients' demanding needs. A true "one stop" shop, their diverse product offerings also include: High-speed corporate bandwidth services, web site hosting, web site and graphic design, web application and database development, e-commerce system development, server collocation including monitoring, and network management/consulting. They stand steadfast in their commitment to quality services and exemplary support. Biz Net is proud to be located in the quaint college town of Blacksburg, Virginia—the home of Virginia Tech.






Calix is our supplier of choice for network switches and customer premises equipment (CPE). Calix has been our favorite supplier for years, because they understand open access networks better than any other fiber switch supplier. Calix equipment will be powers our standard Gigabit fiber connections in rural towns and communities like Blacksburg.





OFS, a Furukawa company, is supplying the high capacity, Gigabit fiber that will connect Blacksburg homes and businesses. We have been using OFS fiber cable for several years, and OFS products and technical support are second to none. OFS fiber cable will ensure that Blacksburg has a "future proof" fiber infrastructure that will last for decades.


Design Nine is a Blacksburg, Virginia company with more experience designing new multi-service, multi-provider fiber-optic networks than any other business in the U.S. Design Nine has designed and built networks in Virginia, Florida, New Hampshire, California, Montana, Minnesota, Illinois and Minnesota, and has projects underway in Virginia and North Carolina. Design Nine is bringing twenty years experience with community-wide broadband and fiber-optic to the WideOpen Blacksburg project.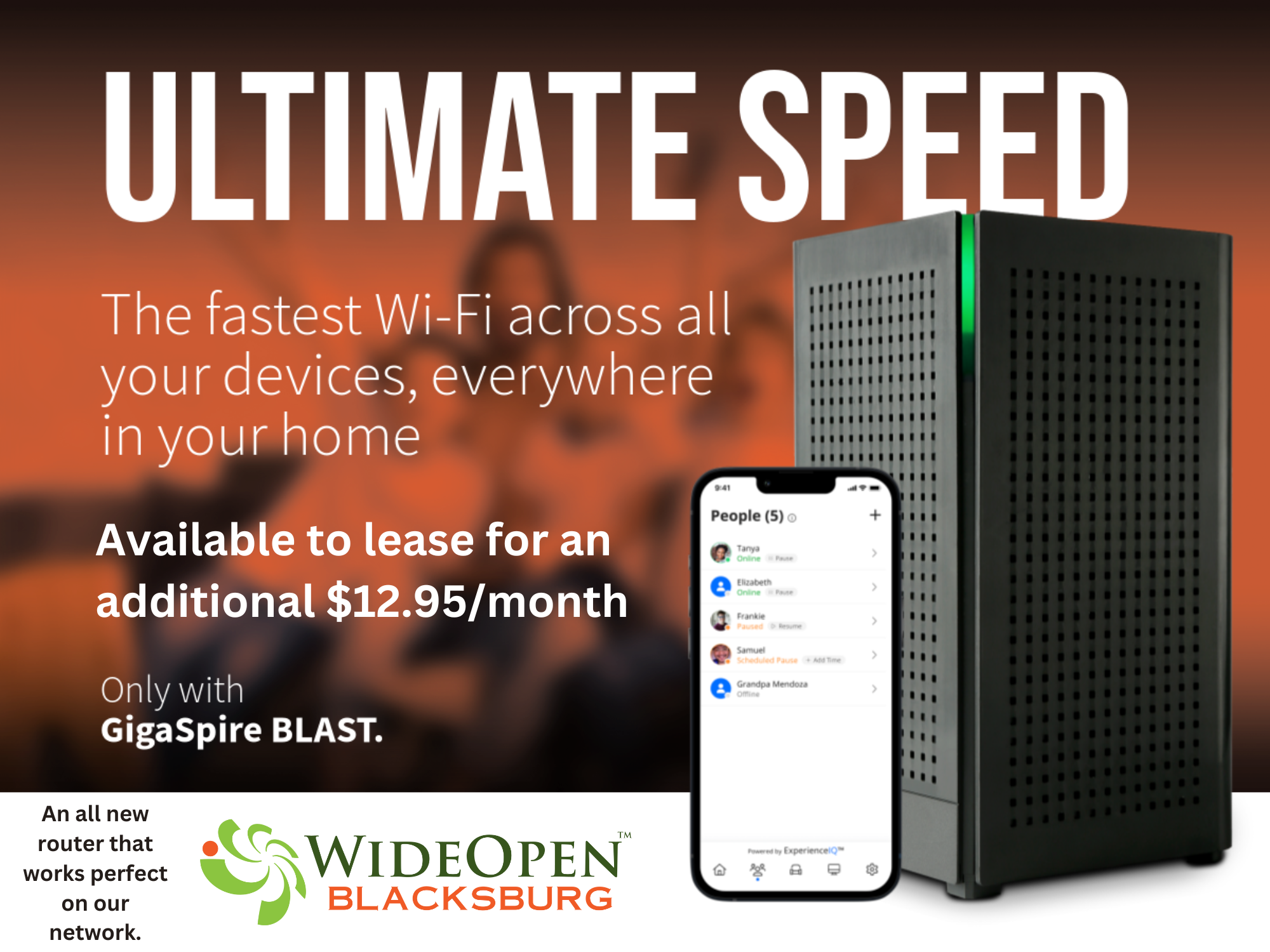 The Team